Over 100 Island adults and families benefit from social worker services
Janice Henshaw Submitted Article Gabriola Sounder, Tuesday, March 22 2016

Island Health will provide bridge funding when the A GP for Me grant for the social worker expires on March 31st of this year. The bridge funding from Island Health serves two purposes: 1) to maintain existing operations and build on the success of the demonstration project and, 2) continue to work with Gabriola to co-develop ongoing primary care support services.

The A GP for Me grant was funded through a joint initiative of the Government of BC and Doctors of BC and on Gabriola was used for a one year demonstration project, which included integrating a social worker into the primary care practice at Gabriola Medical Clinic and at the local social services agency, People for a Healthy Community (PHC).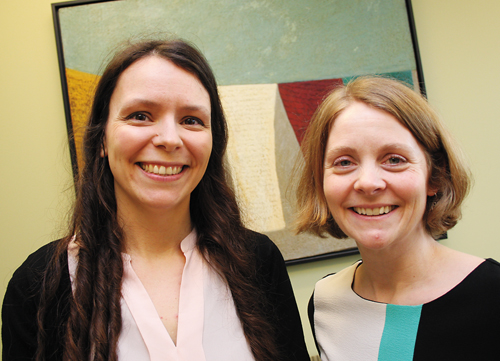 Dr. Tracey Thorne, physician lead for the A GP for Me grant, is extremely pleased that the funding for the social work position will continue indefinitely. "If we had not taken the lead (through the Rural and Remote Division of Family Practice, RRDFP) and worked in partnership with other community groups, we would never have had the social work position to begin with; it's proven its worth."

"We often talk about the service silos that exist in government or corporations but they also exist in community and health sectors," said Brenda Fowler, PHC Executive Director.

(L-R) Angela Pounds, Community Social Worker, with Dr. Tracey Thorne. Derek Kilbourn photo

"One of the positive outcomes of the community social worker position has been her ability to make connections and links between family physicians and community services. It's the creation of a new community health model."

Dr. Thorne said that the current partnership aspect works well because it includes the RRDFP, PHC, the Gabriola Medical Clinic, the Community Social Worker, Island Health, and BC Mental Health and Substance Abuse Services. "If we see gaps in the health care system or see gaps in access to care, or provision of care, for vulnerable members of our community we have to not just be complacent about that, we have to look for ways to make up for it."

Angela Pounds, hired in May 2015, as the Community Social Worker, noted that her position involves a "mountain of paperwork" and a lot of teamwork. "That's why it has been so successful, because we have all these people working together."

Dr. Thorne concurs, saying that Angela is a highly valued member of the team that helps Gabriolans access resources to support their health and well-being.

Approximately 10-20 clients avail themselves of the Social Worker's time each week. People who have been diagnosed with chronic, life threatening or altering diseases and disorders are helped to connect with resources to help them cope. Other services include assisting clients in obtaining disability insurance, fuel tax credits for the disabled, rental assistance grants for low income seniors and families, arranging transportation to and from medical appointments, linking people with other agencies, and improving access to our local physicians.

In conjunction with the hiring of a social worker, a new online tool called FETCH (For Everything That's Community Health) www.gabriola.fetch.bc was launched in November. The website is another service created through a partnership between the RRDFP and PHC to help doctors and the public locate health and social services.

"The formation of and dedicated physician members of the Gabriola Chapter within the RRDFP have enabled these initiatives, among others, to provide better services for Gabriola residents, said Chapter Coordinator Nancy Rowan. "Dr. Thorne deserves special thanks for her vision and leadership in the A GP for Me initiative."

Return to top of page